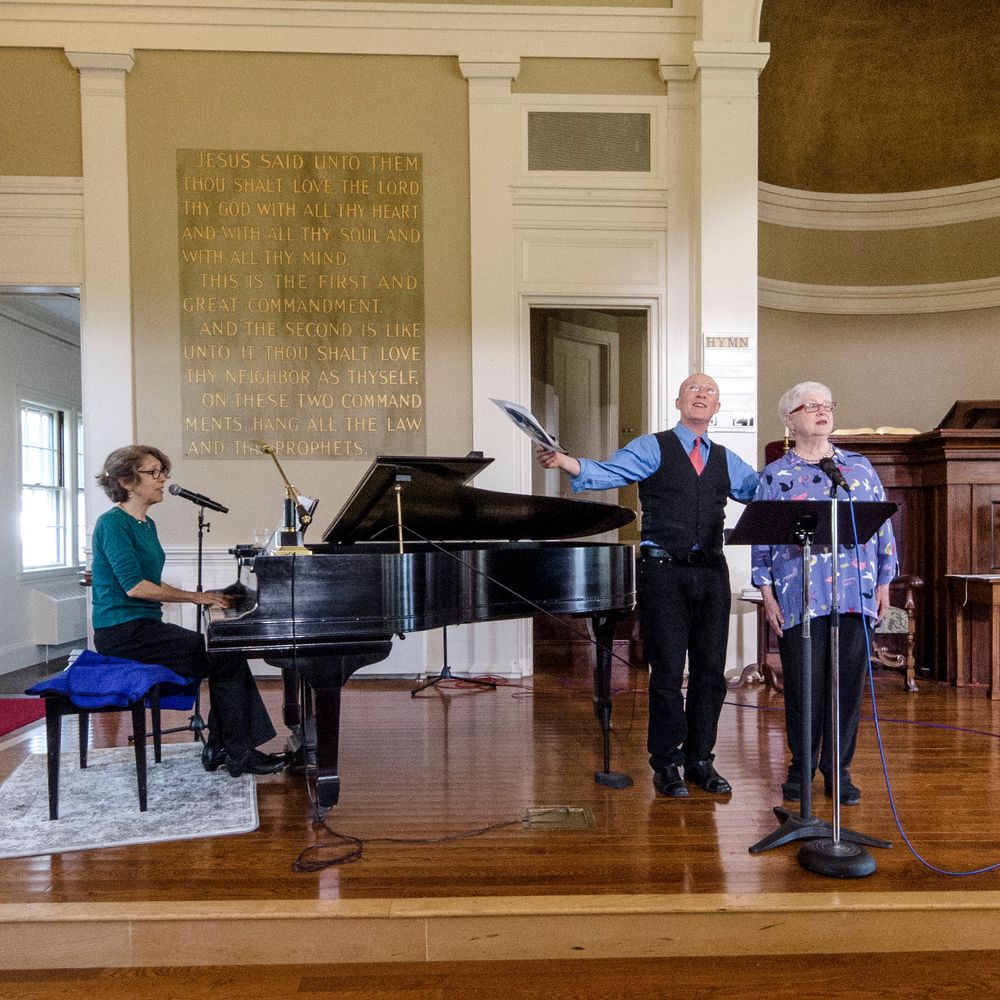 Let Us Bring A Service To Your Church!
"Molly, Will, and Carole's service was full of joy and thoughtfulness — and wonderful music." — Penny P., Worship Committee, First Parish Unitarian Universalist, Milton, MA.
Molly Ruggles, Will McMillan & Carole Bundy love to bring their services to UU churches in the greater Boston area. They offer a range of worship themes with musical perspectives on faith, spirituality, and social justice -- some of which are listed below.
For more information about their services and how they can enrich the experience of your congregation, please get in touch. They welcome the opportunity to learn more about your congregation and what material might resonate with your worship traditions.
— LET THE MYSTERY BE
This service explores the invaluable challenge of learning to live with the unknown. Songs include "Holy Now," by Peter Mayer and "Let The Mystery Be" by Iris Dement.
— AWAKENING GRATITUDE
This service illuminates the value of bringing gratitude into our lives — with songs including "A Beating Heart" and "The Beauty All Around," which are both by Will McMillan.
— IT'S ALRIGHT TO BE AFRAID
This service investigates how we might respond to the extraordinary — and at times terrifying — challenges stemming from the escalating climate catastrophes here on planet earth. Songs include "Cry If You Want To," by Bobby Caldwell & Scott Cross, and "We're Running A Big Experiment" by Will McMillan.
— THE GOSPEL ACCORDING TO YIP
This service features songs by lyricist Yip Harburg — including "It's Only A Paper Moon," "How Are Things In Glocca Morra?" "Over The Rainbow," "Brother, Can You Spare A Dime?" and "Look To The Rainbow" — as well as stories about Yip's life as an advocate for social justice.
— GONNA MAKE MY GARDEN GROW
This service reflects upon the restorative power of gardens and gardening — which can bring food, beauty and hope into our lives. Songs include "The Garden Song" by Dave Mallet, "What A Wonderful World" by Bob Thiele & George David Weiss, and "Make Our Garden Grow" by Leonard Bernstein & Richard Wilbur.
"Fantastic! People are raving about [the service]. Thank you...for your presence, musical gifts and humor!" — Reverend Jenny Rankin, First Parish in Lincoln
Photo by Owen Hartford at First Parish Milton, MA.